Spectacular 2000XII from Ken's Creations Rajan Godfrey - Bangalore
Tuesday, 20 December 2011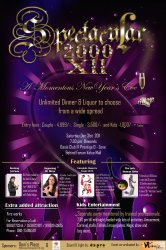 Item details
City:
Bangalore, Karnataka
Contacts

Donisplace

9886773344
Item description
Grand New Year event @ Prestige Ozone
For the first time in Prestige Ozone, a grand gala evening of entertainment has been planned and finalized for the New Year's Eve.
The party will be held at the Poolside Ground with a seating capacity (table & chair format) of 500 adults and separate venue has been finalized for 200 kids.
Entry fees have been fixed at Rs 4,999 for couples, Rs 3500 for singles & Rs 1000 for kids. There will be an additional 10.3% entertainment tax on the value of the ticket.
Entry fee will include the entry for the event with reserved seats, Entertainment, Food & Liquor.
Entertainment
D J Pinto
He has rocked the D J circuit for the last 14 years, has been the runner up in "WAR OF DJ" twice. He will be rocking the dance floor.
M C Divya
With over 4000 shows to her credit, M C Divya will be the Master of the ceremony for the entire event.
Team 5678
With Over 2000 Shows to their credit in the last 15 years. The only Indian dance team to be featured in an International music album for the band "DEEP FOREST"
Robo Ganesh
The Only Human ROBO –Robo Ganesh has performed over 2000 shows in more than 20 countries and has more than 30 satellite channel shows to his credit. He was also the finalist in "India has got Talent" and has also acted in movies. His acts will be the filler between the dance sequences
Kids Entertainment
Entertainment planned for the kids include Bouncing Castle, Face painting, Hair Braiding, Caricature. There would be game stalls like Feed the clown, Dart board, Hit the rat, Criss Cross monitored by volunteers. There will also be magic show, Music and various gifts and accessories to keep the kids entertained.
The entire event is managed by "Ken's Creations", who are one of the premium event management group in Bangalore.
Sound and lights will be done by DS-Pro who has been the people to have provided sound and lights for the recently held AKON Concert in the city.
One of the key attractions will be that, the kids are going to have completely different entertainment monitored by professionals, so that the adults accompanying them can have a peaceful evening.
The venue itself has sample parking spaces and being a closed gated community, the safety of the guests are well taken care of.