Get upto 2% to 10% roi everymonth on your investment - Bangalore
Tuesday, 29 January 2013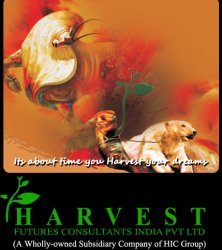 Item details
City:
Bangalore, Karnataka
Contacts

iyappa
Item description
This business proposal is a very new model and none of the other
investment firms have ever introduced it in Indian territory.
The company is Harvest Futures Consultants India Pvt Ltd
Bangalore. We are into investment in various asset classes such
as currencies, gold, CFDs, etc.
Harvest Group takes pride in its stringent management control as
far as its business infrastructure goes. Utilizing its
subsidiary companies or strategic Alliances of Harvest
International Consortiums Ltd (HIC) in Hong Kong and, PT Harvest
International Futures (HIF) in Indonesia and Harvest Futures
Consultants India Pvt Ltd., (HFC) in India, to provide paramount
global financial advice network to our clients.
Harvest Group has a worldwide operational network reaching 12
countries & 40 regions, Indonesia, India, Hong Kong, China
Vietnam, Brunei, Malaysia, Singapore, Taiwan, Laos & Thailand.
Harvest Futures Consultants India Pvt Ltd is one of the Pioneers
in India providing Information, Consultation and Training on
Global Spot Interbank CFDs Trading and has their registered Head
Office in Bangalore.
WHAT WE DO
At harvest, we provide Portfolio Management Services where your
Account is traded by experienced professionals, based on your
risk appetite. The returns are lucrative and much more than you
can expect from the Indian Equity or Share Market.
We also provide Training and Consultation to trade in Global
Currencies and Gold which are traded in pairs and exchanged
against the other when traded, the rate at which they are
exchanged is called the Exchange Rate.
RETURNS
We make returns in the range of 30% to 60% annually, on your
investment.
WITHDRAWAL
The withdrawal of profits takes 24 to 48 Hours and this can be
done Monthly or Quaterly, based on your requirements.
TRANSPARENCY
You will recieve Statements in your Inbox which clearly show you
the Number of trades, profits, losses, Capital as well as the
Current Equity in your Account.
Kindly go through the Website: www.hif-india.com
www.hicfx.com.
For any further query/clarification you can call +919901294657
we are also looking for franchisee / channel partner
Sub-Broker...