NBee Services- Facility Management , Electro-Mechanical Maintainance & Manpower - Bangalore
Saturday, 19 March 2011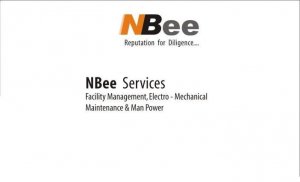 Item details
City:
Bangalore, Karnataka
Contacts

Nagaraj

9611177000
Item description
Our team members have served in Senior Management position in various organizations for the past 17 years in the field of electro-mechanical maintenance, vendor development, elevators, facility management and outsourcing.
We are specialized in the field of operation/maintenance in manufacturing industry, IT industry and consumer electronics.
We are equipped with a strong team of engineers and consultants for facility safety, maintenance operations, expansion and projects.
OPERATION AND MAINTENANCE SERVICES
SAFETY:
1.Fire Hydrant Systems.
2.Fire Alarm Panels.
3.Fire Drills.
UTILITY EQUIPMENT:
1.Diesel Generators.
2.HT Yard.
3.Main Distribution Panel.
4.AMF and Sync Panels.
5.LT Switch Rooms.
6.Air Compressors. (Reciprocating and Screw type
7.Air Handling Units.
8.Chiller Plants.
9.Air Conditioning.
10.Boilers.
11.Pumps.
12.Maintenance of Records as per ISO standards.
OFFICE EQUIPMENT:
1.Intercom System.
2.Photocopiers and printers (Out sourced service).
3.Maintenance of computer server rooms.
4.Access control systems. (Out sourced service).
ENVIROMENTAL:
1.Effluents Treatment Plant.
2.Sewage Treatment Plant.
MANUFACTURING MACHINERY:
1.Electro-Mechanical manufacturing Machines.
2.PLC programmed Machines.
3.All types of PLC maintenance.
4.SCADA
5.Continuous Process Machinery.
6.Mechanical and Electrical circuit Design and Maintenance.