HostCat.com Your Dedicated Server Provider. - Bangalore
Monday, 3 May 2010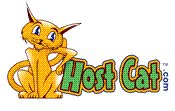 Item details
City:
Bangalore, Karnataka
Contacts

hostingsniffers

9900900045
Item description
Hostcat.com, a division of Seeknext IT Solutions Pvt .Ltd., a Dedicated Hosting 50+ server configurations available
VPS hosting, Clearance servers, Indian datacenter, is based in Bangalore, India.
Originally founded in December 2009 and launched in February 2010
Hostcat.com is a result of many years of strategic research, planning, and development.
The Dedicated hosting industry is competitive and changes quite frequently.
It is Hostcat.com's mission to set itself apart by providing high quality
reliable Service to both individual and corporate customers.
for more details visit: www.hostcat.com.