Ethical Hacking workshop in TJIT Bangalore by infySEC - Bangalore
Friday, 3 February 2012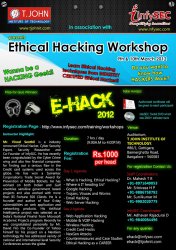 Item details
City:
Bangalore, Karnataka
Contacts

Adhavan

9840084496
Item description
EHACK 2012 | 2 Days Ethical Hacking Workshop in T John Institute of Technology Bangalore by infySEC | LIVE DEMONSTRATIONS

What if ?

- Your Road Traffic and Air Traffic control systems are controlled by some cyber attackers online?
- The World War 3 is completely of cyber attacks than nuclear attacks ?
- Dams and reservoir control systems are cracked into by cyber terrorists ?
- Electronic Voting machines are tampered by attackers remotely ?
- One morning you wake up and notice all the money from your bank account has gone disappeared ?
- A copy of all your emails and confidential data is with your competitor ?
- Somebody cracked into your computer, and started controlling your mouse pointer and the keyboard ?

Are you Shocked ?

Then this is the workshop YOU HAVE TO BE. Ever wished to see yourself as a JAMES BOND in REAL LIFE. Be Prepared for a JAW DROPPING , ENTERTAINING and EDUCATIVE learning experience.This is a great networking opportunity for the security enthusiasts and ethical hackers across the country with intense knowledge sharing sessions, LIVE demonstrations, hands on experience on the latest tools, Capture-the-Flag Competition and technologies that enables you to discover and contribute to make the world a SECURE place to live in. And Truth well said , "The best part in ones life is DOING what people say you CANNOT DO" - Join us on a Magical Session of Computer Hacking.

For any queries contact us:

Staff Coordinators :
- Dr.Mahesh TR : +91-8971640053
- Mr.Srinivas HP : +91-9886778792
- Mr.Sunil Kumar M :+91-9902020775

infySEC Coordinator :
- Mr.Adhavan Rajadurai D : +91-9840084496

Alternatively you can reach us at enquiry@infysec.com and ehack@tjohnit.com

Last date for registration is on 5th March 2012. SEATING ON FIRST COME, FIRST SERVED BASIS.

For workshop registration, please check link below :
httpwww.infysec.com/training/workshops/upcoming-event
httpwww.tjohnit.com/

Workshop Registration Fee : Rs.1000 per participant

Workshop Venue:
Auditorium,
T John Institute of Technology,
86/1, Kammnahalli,
Gottigere, Bannerghatta Road,
Bangalore, Karnataka 560 083,
India.

Benefits of this workshop:

- Ethical Hacking techniques and countermeasures directly from experienced Ethical Hackers.
- Learn not just to use tools but create such tools.
- LIVE DEMOS for necessary topics like never before.
- Ethical Hacking Toolkit (Includes over 2700+ tools preloaded for Windows and linux).
- Attractive prizes every 1 hour.
- Industry recogonized Certificate from infySEC.

Wow ! What will I Learn:

E-HACK Workshop Contents

S.No: Topics
1 Cracking Vs Ethical Hacking
2 Spoofing - EMAIL and IP
3 Google Hacking
4 Trojans, Viruses and Worms
5 Mobile & Wireless Hacking
6 BufferOverflows & Reverse Engineering
7 Cryptography
8 Phishing
9 Web Server Hacking
10 Web Application Hacking
11 Credit Card Hacking
12 NexGen Attacks
13 Email Hacking
14 Countermeasures and Case Studies
15 Hacking as a CAREER

About Trainer:

All our consultants are senior professional with tremendous exposure to Information Security and Governance Risk & Compliance. With over a decade of experience in training & consulting, they help bring a lot of practical and industry relevant examples with case studies to the classroom which improves the overall learning experience. Our professional hold industry acclaimed accreditation such as : CEC , CEH , M.S , CISSP, CHFI, CISA, CISM, ISO 27001 LI / LA, CCNP, CWNA , MCSE & ITIL.

Prerequisites :

- Should know to use Web Browsers
- Basic HTML familiarity
- Basic networking will be helpful

Who Should Attend :

- Students
- Institution Professors
- Institution faculties
- Site Administrators
- Systems Administrators
- Network Administrators
- Wireless Administrators
- IT professionals
- Anyone who are anxious about the network infrastructure and data integrity
- Anyone who is seeking a break through Career into information security

About infySEC:

infySEC is a rapidly growing security services organization. Our focus is on three areas: Client Security, Research & Development and building up intellectual capital with customers across Asia, US and Europe. InfySec keeps focus on Information Security Research & Development, vulnerabilities Analysis, tools development and Security Training. infySEC provides the complete range of vendor-neutral consultancy services in information security, business continuity, consumer privacy and information survivability. infySEC's clients are in a position to exploit cutting-edge benefits from the emerging business scenarios that employ new technologies such as e-commerce and wireless, safe in the knowledge that the business is protected against unforeseen risks and disasters. We help clients to implement their business continuity strategies, manage risk, configure secure business recovery sites and implement resilient systems and networks.

About T John Institute of Technology:

T. John Group of institutions is located on a sprawling 25-acre campus on Bannerghatta Road in Bangalore. Currently the group has seven Institutions including T. John Institute of Technology that are housed in aesthetically designed building with state-of-the-art facilities , backed by a team of experienced and dedicated faculty committed to the all-round development of students .Cosmopolitan and secular in ethos and philosophy, T. John Group of Institutions attracts students from all over India and the neighboring countries. The excellent ambience and infrastructure makes life on campus a pleasurable and memorable learning experience.

T. John Institute of Technology (TJIT) is a premier institute of engineering that has carved a niche for itself in the field of technical education. The objective of TJIT is to impart quality technical education and help students to develop creative thinking, analytical ability and acquire managerial techniques to meet the challenges in today's highly competitive technology sector.