Great Dane Fawn With Black Mask (Sire Aust & Dam USA Import) - Bangalore
Friday, 24 September 2010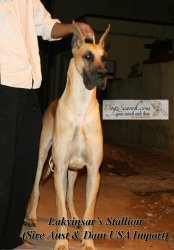 Item details
City:
Bangalore, Karnataka
Contacts

rao

9740000079
Item description
Name: Lakvinsar's Amrolyn's Stallion (Sire Aust & Dam USA Import)
Breed Name: - Great Dane Fawn With Black Mask
Gender: Male and female pups both available
Website: - www.dogzsearch.com
Contact Details: - 9740000079
Description: KCI reg. parentage sires stud & puppies for sale, extraordinary pups, and imported quality. Excellent pedigree, Proper breed characteristics broad head, heavy bone structure. We assure excellent quality of breed. Call for more information and pictures. If you would like more information you may contact us all breeds are available.
Please Visit our website for other breeds details. Thank you for taking time out of your busy schedule to look at our precious puppies. Quality pup's gives satisfaction, happiness & royalty to the owners.
For more details contact Mr. Rao 9740000079, www.dogzsearch.Com.