Sri Sankara matrimony - India's most trusted Hindu matrimonial site - Bangalore
Saturday, 9 November 2013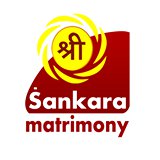 Item details
City:
Bangalore, Karnataka
Contacts

Sri Sankara Matrimony

09980360360
Item description
Sri Sankara Matrimony, a unit of Sri Sankara TV, is a most reputed Hindu Matrimonial site in India. By using uncomplicated methods in matching various profiles, lakhs of Hindu Bride and Grooms have realized their dreams of getting married. Sri Sankara Matrimony caters to listing the profiles of brides and grooms from various communities. Different sub community sections are also included, to simplify for those people who are looking for a partner from their specific community.
About Sri Sankara TV
Sri Sankara TV is a 24/7 spiritual channel in India that has revived the faith in GOD. At current stage, when television is all about glitz and glamour, Sri Sankara TV draws the attention back to ancient civilization, different places of worships, famous Hindu scriptures and cultural heritage. It re-emphasizes on the importance of faith, when the whole country seem to deviate into materialistic world.
Advantages of Sri Sankara Matrimony
1.)Accurate matchmaking portals in India – With the inputs provided by the prospective bride and groom applicants, our team of experts simplify the procedures and provide accurate matches for its customers. We don't randomly list the profiles that match yours. We ensure that it fits your profile and help you to go for a formal engagement. This makes us an accurate Hindu matchmaking portal in India.
2.)Lakhs of customers have benefitted by registering in our marriage portal and found their right matches.
3.)Every community member profile is listed – Hindu Community comprises of several sub sect based on region and caste. Sri Sankara Matrimony lists all the profiles from major communities and matches theirs with other brides or grooms of that same community. We have sub sect in Kannada Matrimonial like Lingayath matrimonial, Vokkaliga matrimonial, Kuruba matrimonial and others. Similarly, we have other community matrimonial pages for Tamil, Telegu, Malayalam, Hindi, Marathi and others.
4.)Reasonably priced package offer – Registered members of Sri Sankara Matrimony can avail package offers at a reasonable price with best services available to them. Through our paid services, people can enjoy the benefit of seeing the complete profile details, contact details, get support matrimony, profile photo and become the featured profile in our website. Register Now!
5.)24/7 customer support – Sri Sankara Matrimony provides anytime customer assistance, to ensure that its customer's doubts are cleared. For any queries about the registration process or information, please contact our 24/7 customer support team on +91-080-43000999
6.)Choose from the best on wedding directory – Our service does not end when our customers have found their right match. We proceed with listing out the important wedding products and services that are required to make the wedding wonderful. Our listings includes: venue, ornaments, clothing, caterers, travel planner and others.
7.)Get informed about the happenings in marriage and relationships by visiting our blog page. It includes stories about successful marriages, celebrity weddings and others.
8.)Follow us on Twitter and Facebook – Get interactive on our Twitter and Facebook page. Share your thoughts about marriage and its dynamics in India.
Lakhs of prospective brides and grooms from various Hindu communities have benefited from our precise matchmaking ability and have succeeded in getting married. Now it is your turn. Come be a part of these elite couples and start a new happy life. Register Now!