Top Sap Fico Training In Bangalore - Bangalore
Friday, 2 October 2015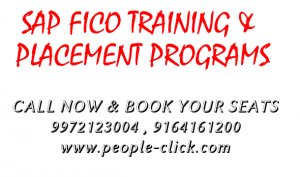 Item details
City:
Bangalore, Karnataka
Contacts

Nithin

9164161200
Item description
Contact Swathi- 9164161200/080-26689100
What is SAP FICO Module?
SAP FICO module refers to the Finance(FI) and Controlling(CO) modules of SAP ERP system. FI and CO are the core modules of SAP. They are tightly integrated with Sales and Distribution Module (SD) and Materials management (MM) module.
SAP Financial Accounting (FI) is the core module where all the financial processing transactions are captured. This is the module that is used to create statutory Financials Statements for external reporting purposes.
Functions in SAP FI can primarily be divided into General Ledger Accounting (G/L), Accounts Receivableand Accounts Payable(AR/AP) processing, and Fixed Asset Accounting(AA). We will pick up details of SAP FI module in another blog post.
SAP Controlling module helps provide operational information to the management of a company to support business analysis and decision-making. CO represents the internal accounting viewpoint of an organisation. It provide information to managers to help manage costs and operations of the organization.
SAP refers External Accounting as "Financial Accounting"(SAP-FI) while Internal Accounting is referred as Managerial Accounting(SAP-CO).

Prerequisite
1.Knowledge of Accounting/Finance

FI/CO MODULE.


FI – FINANCE CO - CONTROLLING

GL – General LedgerCEA – Cost Element Accounting
AP – Accounts PayableCCA – Cost Center Accounting
AR – Accounts ReceivablesIO - Internal Order Accounting
AA – Asset AccountingPCA – Profit Center Accounting
BA – Bank AccountingPC - Product Costing
CO-PA – Controlling Profitability Analysis

FI - FINANCE
GENERAL LEDGER ACCOUNTING.

•Organization Structure
oCompany
oCompany Codes
oBusiness area , Profit Centers

•Financial Accounting Global Settings
oFiscal year Variant
oField Status Variant
oTolerance Groups
oDocument types & Number Ranges

•Master Data
•GL Planning (New)
•Introduction to New GL Accounting (New)

•Parallel Currencies
•Foreign Currencies
•Interest Calculation
•Business Process (Easy Access Screen)
oCreation of General Ledger master
oDocument postings, changes and reversals
oAccount balance verification
oTemplates like Sample , Reference Documents




ACCOUNTS PAYABLE.

•Master data
•Outgoing Payment
oManual Payments
oAutomatic Payments
oPayment Methods
•Spl GL transactions
oAdvances or Down Payments
oNotes items
•Payment Terms & Cash discounts
•Business Process (Easy Access)
oCreation of Vendor Master records
oPurchase cycle
oInvoice Postings
oAdvance payments
oPayments
oForex liability valuation


ACCOUNT RECEIVABLE.

•Master data
•Incoming Payment
oManual Receipts
oCheque Deposits

•Spl GL transactions
oCustomer (Advances) Down Payments
oNotes items
oBill of Exchanges
•Payment Terms & Cash discounts
•Dunning Process
•Business Process (Easy Access)
oCreation of Customer Master records
oSales cycle
oInvoice Postings
oAdvance receipts
oReceipts
oForex liability valuation



ASSET ACCOUNTING:
•Organization structure
oChart of Deprecation
oAccount Determination
oScreen Layout Rules
oNumber Ranges
oAsset Classes
•Integration with General Ledger
•Depreciation keys
•Asset Under Construction from internal orders
•Business Process (Easy Access)
oCreation of Asset Masters
oAcquisition of Assets
oSales of Assets
oTransfer of Assets
a.Inter company
b.Intra company
oDepreciation postings
oSettlement of AUC

BANK ACCOUNTING
•House Banks
oHouse Banks
oBanks Id's
oCheck lots
•Cheque Deposits
•Manual & Automatic bank reconciliation
•Cash Journal

CO - CONTROLLING

GENERAL CONTROLLING
•Organization structure in Controlling
•Controlling Area

COST ELEMENT ACCOUNTING
•Master data – Primary & Secondary Cost Elements
•Accrual Calculation

COST CENTER ACCOUNTING
•Master data – Cost Centers, Activity Type & Statistical Key figure
•Cost Center Planning
•Actual Postings
•Period End closing activities

INTERNAL ORDER ACCOUNTING
•Master data – Internal Order
•Internal Order Planning
•Budget & Availability Control
•Period End closing activities
PRODUCT COSTING
•Product Cost Planning
oCosting Sheet
oCost Component Structure
oCosting Variants
•Cost Object Controlling
oProduct cost by Period
oProduct cost by Order
oProduct cost by Sales Order
•Period End closing activities
oOverhead calculation
oWIP Calculation
oVariance Calculation
oSettlement
CO-PA (Controlling Profitability Analysis)
•Structures
•Master Data
•Flow of Actual Values
•Forms & Reports
Profit Center Accounting
•Basic Settings
•Master Data
•Planning
•Actual Posting

INTEGRATION
•Materials Management (MM) with Finance Integration
oValuation Class
oPrice Indicator
oAccount Determination
•Sales & Distribution (SD) with FI Integration.
oSales pricing procedure
oCondition Techniques
oAccount Determination


INFORMATION SYSTEM :

1.Balance Sheet and Profit Loss Account.
2.Chart of Accounts.
3.Trail Balance
4.General Ledger.
5.User Manual.
6.Vendor List.
7.Vendor Wise Purchases.
8.AGE Wise Analysis of Vendors.
9.Down Payment Report of Vendors.
10.Vendor Ledger.
11.Due Date Forecast of Vendors.
12.Customer List.
13.Customer Wise Sales.
14.AGE Wise Analysis of Customers.
15.Down Report of Customers.
16.Bill Of Exchange Bank Wise and Party Wise.
17.Department Wise /Telephone Wise Cost Report Actual Cost and Variance.
18.Vehicle Wise/ Telephone Wise Cost Report Actual Cost Variance.
19.Department Wise and Machine Wise Assets Details – Gross Block, Accumulated Depreciation and Net Block.
20.Depreciation Forecast.
21.Depreciation Posting Period Wise.
22.Schedule V Assets Report.
23.Assets Addition Report, Sale Report, Profit/Loss on Sale of Assets Report, Assets Transfer Reports.
24.Audit Information System.