Buy Sevanthige And 2 Jasmine Garlands Combo @ Rs 40/- Only - Bangalore
Saturday, 28 May 2016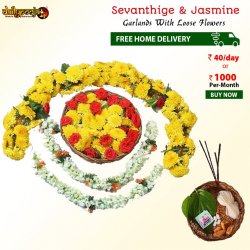 Item details
City:
Bangalore, Karnataka
Contacts

satya raj

9513392293
Item description
"Perform your everyday pooja with this Sevanthige & Jasmine Garlands Combo. It contains Sevanthige Garland, Jasmine Garlands and Loose Flowers. You will also get Bilva Patra on Monday, Durva Grass on Tuesday, Durva Grass on Wednesday, Tulsi on Thursday, Dhavana and Maruga on Friday, Tulsi on Saturday, Dhavana and Maruga on Sunday. Get it exclusively from Dailypooja, Bhakti Unlimited!
Name: 1 Sevanthige & 2 Jasmine Garlands Combo @ Rs 40 Per Day / Rs 1000 Per Month
SKU: newcombo40_2
Subscription: Yes
Brand: Daily Pooja
Product Type: Combo
Price: Rs.40/-Day & Rs.1000/-Month
URL: httpwww.dailypooja.com/1-sevanthige-2-jasmine-garlands-combo
Address: Daily Pooja, #463, Kendra Upadhyyara Sangha, Jakkasandra, Agara, Bangalore - 560106
Phone: : +91-9513392293
"