Web design-web development-seo-mobile apps company Bangalore in India - Bangalore
Sunday, 11 December 2016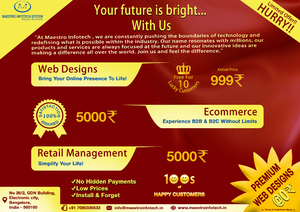 Item details
City:
Bangalore, Karnataka
Contacts

MadanKumar

07090335533
Item description
Maestro Infotech System is not just an ecommerce Website Design Company. We are not just Website Designers and Programming coders. We are a team of digital, creative designers and strategists. It helps Bangalore and India businesses to grow their online charisma throughout creative website design and development, web Maintenance, Digital marketing and Mobile apps development strategies.

A corporate and professional business website Whatever in that to demonstrate and enlarge your brand and business services product in the best all possible strategies or some modified programming functionality to take your website to the further level, Maestro infotech System web design and development team always available to build your business websites and seo team display your website in online attendance in a way that is exclusive to your business.

We consider consistently approaching the capabilities and modernization of the web design and developing the best looking website customized to your business needs. Our team are specialized in create the website and giving clients full maintaining control over the content published in a protected and secure environment. We have a knowledgeable designing team to create the effective websites that control from user's laptop to iPad, the website should without human intervention rearrange to accommodate for resolution,, content, scripting and image size capability.

Our Services:

•Mobile apps Development
•Php Development
•Responsive Web Design
•E-commerce Web Development and Maintenance
•Search Engine and Digital Marketing
•Static and Dynamic Web Design & Development


Here you can see some examples of our work: httpwwwmaestroinfotech.in/

Our team will guide you through each step of the process.

1. Maestro Infotech development team will meet with you and go throughout your needs. We have a simple feedback form to highlight the style of website you are looking for viewers you are targeting.
2. After this discuss with our designing team will deliver a full design part of your website.
3. Whether u need any changes in the design send your feedback, we glowing make the necessary changes.
4. Our team will bring a website on-time based on your feedback with development work included.

Our team always here to answer any questions you may have question about the process of designing and developing a new website.