Automatic Web Scraping and Data Extraction Services - Bangalore
Tuesday, 11 February 2020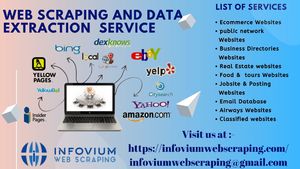 Item details
City:
Bangalore, Karnataka
Contacts

Nikita Patil
Item description
Are you wasting time for collecting data for your business? – No need to spend much time for data collection. We are here to fulfil your data need with our Automatic Web Scraping and Data Extraction Services.
Web scraping services is easy and fastest way for extracting data from websites, web pages, mobile applications (Android & IOS) and PDF. It extracts all types of data like Text, URL, Images, Table, Meta and more available on page. Real Estate, Ecommerce, Data analytics, Machine learning, Marketing, SEO, Sentiment analysis, Hotel & Travel, Job consultancy, Sales lead generation and more business can take advantage of our services for growing business outcome.
Also Infovium web scraping services can develop web scraping software tool as per your demand for any website. You can check our previous project sample at our portfolio on website.