Attend HRM : Attendance, Payroll, HR - Bangalore
Wednesday, 9 November 2011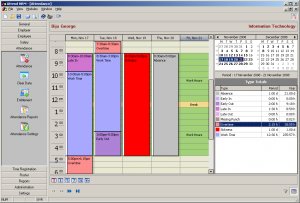 Item details
City:
Bangalore, Karnataka
Contacts

Indu

+91 80 2325 3886
Item description
HR Software with integrated time attendance and payroll. Includes Leave/Shift/Overtime/Project Management, employee scheduling, Web based Employee Self Service (ESS) and much more. It works great for a small business with a few employees all the way up to a large multi-location organization with many employees.
Supports multiple companies/users/time attendance devices/languages(English, Arabic, Japanese, Spanish, Hindi and more). Also supports multiple databases(Firebird, SQL Server, Oracle, and more).
Real-time and editable attendance, automated overtime/late-in/early-out calculation, graphical attendance views, and integrated leave management are a few salient features of the attendance management system. Leave Management system allows employees to apply leaves online, and check leave balance. Employee work plan, leave, holiday and attendance data are available in one screen for a visual comparison.
Payroll software is closely integrated with attendance management system and contains various features including user-defined salary structure, user-defined formulae, bonus, loans, advances, damages and recovery, customizable pay slips, bulk email of pay slips and modification history. You can pay your employee for every minute of overtime he does. Also, you can cut pay for every minute he is late.
Employee module includes personal, contact, employment related information. Employee document management, bulk import of employees, employee self service and much more.
The software includes dozens of MIS reports on attendance management, employee scheduling, overtime, leave balance and summary, and payroll management. All reports can be saved as PDF or exported to excel and many other formats.
The administration module allows you to create multiple users, user groups with each user group having different access rights; no access, read only, and read write access rights on each screen.